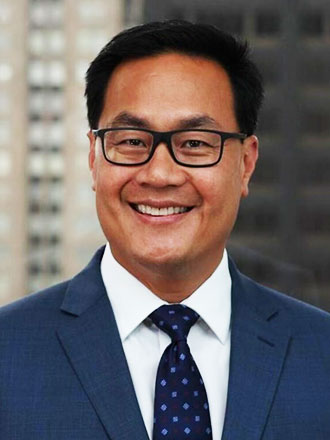 Iwei Huang, DMD, MS
I am proud to be an orthodontist, and to help the people of our community improve their health and appearance. I am honored by the trust my patients have in me, and always strive for perfection in every treatment.
My first job in dentistry was in high school, making plaster models of teeth. This led me to apply to dental school, where I became interested in orthodontics for a variety of reasons. One of them was that orthodontics requires us to consider a multitude of issues and to place them into the context of a coherent treatment plan that addresses the needs and goals of the patient. I really enjoy the problem-solving aspect of what I do. And, just as important, I enjoy seeing the results of all of the planning and treatment, whether it is a beautiful smile, or better function.
Education and Continuing Education
University of California at Davis – BS in Psychobiology

Harvard School of Dental Medicine

– Doctorate of Dental Medicine
University of Illinois at Chicago – Degree in orthodontics and MS in Oral Biology
The same reasons that inspired me to become an orthodontist in dental school are still true, today. Our patients come to us with a variety of needs, concerns, and desires. Some come to us because they have been self-conscious for as long as they can remember, and they desire a beautiful smile. Others come to us because they cannot function properly with their teeth. Sometimes, patients will come to us with both concerns. It is my responsibility to listen to what the patient desires and provide the treatment that is most appropriate to them.
I believe that continuous professional development is essential to this vision; to that end, I attend continuing education courses and am active in various study clubs throughout the year.
I also believe that it is important to stay current with technology. At Gold Coast Orthodontics, we have 3D scanners and X-rays that allow us to diagnose and do treatment simulations in a way that we have not been able to do before. We are also able to design 3D plans and to create customized appliances such as robotically fabricated archwires and staged removable aligners to provide the best treatment for our patients.
Professional Memberships
American Dental Association
Illinois Dental Society
Illinois Society of Orthodontists
Midwestern Society of Orthodontists
American Association of Orthodontists
American Lingual Orthodontic Association
Spear Study Club
Seattle Study Club
Dental Ed Study Club
North Michigan Avenue Study Club
Pride Institute
In the Practice
I have been practicing orthodontics since 2001, and love being able to help my patients achieve a beautiful smile or better function. I believe that technology can play a critical role in excellent orthodontic care, and I implement proven technologies that can benefit our patients. Making a positive change in my patients' lives motivates me, and I enjoy the challenge of planning treatments to achieve great results.
I want our patients to feel completely at ease here, and my staff and I provide an office environment that is comfortable and friendly, where we listen to our patients and address their concerns. We treat each patient with respect and compassion, and offer treatments we would provide to our own families. We hope you will feel relaxed and appreciated in our office, and we will create a smile that is above and beyond your expectations.
Outside the Office
I was born in Taiwan, and lived in Brazil until high school. I went to high school and college in Davis, California, and have lived in the Chicagoland area since 1998. My wife Doris and I have two sons, Lucas and Logan. Family is very important to me—we love sharing experiences together, whether we're cooking at home, out on the town, or traveling.