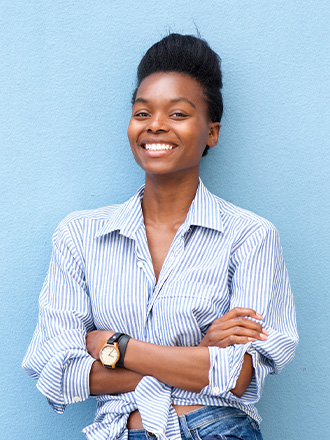 If you'd like to share some kind words and smiles, please ask our front desk staff for a comment card at your next appointment. We'd love to hear about your experience!
I'm very pleased with my experience and the result. About twenty months ago, I went there for second opinion. Since I have an extreme case, I was advised to have a jaw surgery. Dr. Huang examined me carefully and explained to me patiently. which makes me very comfortable to go with him even though he could not guarantee for perfect bite. After the initial six months, I have to move out of state. I continued my treatment with him until he had my teeth straightened and stabilized. All the orthodontists I had seen before I transferred all praised a great job that Dr. Huang had performed. Finally I had my braces removed and my teeth looks too good to be my own. Again my current orthodontist said the majority credit should go to Dr. Huang given my extreme tough teeth conditions. I would highly recommend him for his expertise and professionalism.
-Wendy G.
Dr. Huang is wonderful! My teeth moved after getting braces as a teenager, so I went to Dr. Huang to get invisaline in my mid-20's. He did a wonderful job and is so nice and so knowledgeable. I still go back to him to get my retainers replaced every couple of years. I also have a permanent retainer on my bottom teeth, which was done so well that my dentist praised the workmanship! One last note: a couple years ago my permanent retainer broke the morning before I was flying to Boston for
Christmas. Dr. Huang was flying to CA that same day but was willing to come into the office right away to fix it before we both had to rush off to the airport. What a great guy!
-Carla T.
I wish we lived closer! We visited Dr. Huang for a replacement retainer for my daughter while we were out of town. He was extremely professional and friendly I was also impressed by the
office staff. Thank you!
-Teri H.
I had a terrible experience In Indianapolis with my Invisalign procedures. Moved back to Chicago and for the second time got Invisalign( braces) for my teeth. The experience and improvement on my teeth were 100XXX better. I recommend Gold Coast! Dr. Huang and his team are delighful! My teeth look great!
-Eve K.
I'm so glad I made the decision to get Invisalign - and that I chose Gold Coast Smiles to manage the care of it. I looked into doing it through my dentist's office, but they just didn't seem as knowledgeable or confident in how Invisalign works. The staff at Gold Coast Smiles is both professional and helpful. They always spent as much time on me as was needed, and every question I had was answered thoroughly.
-Happy Patient
I'm a dentist. I am greatly selective about where I refer my patients. When I need an orthodontist, | send them to Dr. Huang. He is skillful. brilliant and up to date with technology.
-Neal N.

Doc Huang is the best. I couldn't qualify for "Invisaline" and had to go with adult braces. I was in and out within 14 months and could not be happier with the result. Granted it was nothing short of teeth correcting boot camp for my mouth, the pay off was completely worth it. Definitely go the "sure smile" route if your considering. It is worth every cent. Doc Huang and his staff are nothing short of the best.
-Nick J.

Dr. Huang is AMAZING! Can't rave about him enough...the office is staff is soooo pleasant and helpful. My son needed braces and has needed them for some time, and Dr. Huang and his staff got us an appt for a consultation right away and we started treatment promptly thereafter, without any problems. Since coming to him. I have seen a drastic result in my son's teeth and we simply LOVE this office. Painless. fast and efficient! Definitely, recommend this
office.
-Yadira D.

I am so glad I found Dr. Huang! I had braces when l was a kid (many moons ago) and it was a pretty terrible experience, so when I decided to go ahead with double jaw surgery I dreaded the Orthodontics. But now I enjoy seeing my orthodonfistThey do such a good job (I just got my braces off today and I cant believe it)! If you need any orthodontic work done in Chicago, this is the place to go!
-Lana C.
Dr. Huang and his entire staff are fabulous beyond measure. I had to endure braces twice in my earlier life and it was not until Dr. Huang treated me that I got a perfect result. I recommend Gold Coast without hesitation Professional, friendly. always punctual, utilizing the latest technology! Just terrific care!
-Linda N.